2 δημοσιεύσεις • Σελίδα 1 από 1
GOD CREATED LAG TO GIVE NA's A CHANCE
---
http://www.diseno-art.com/encyclopedia/ ... Jakob.html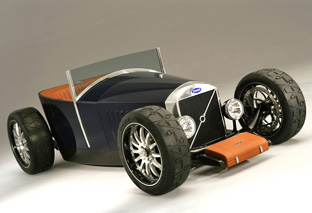 The Volvo Hot Rod Jakob was unveiled in February 2008 at the Volvo Museum in Göteborg, Sweden.
The Hot Rod Jakob is a modern interpretation of the very first series-produced Volvo car. The model was called the ÖV4 (the Swedish abbreviation for Open Car, 4 cylinders), but it soon gained a new pet-name - Jakob.
2005-2006: In Leif Tufvesson's workshop in the rural south of Sweden, work commenced on the car. After documenting the original Jakob in detail, his company, Caresto, started building a car that developed into Hot Rod Jakob.
"Volvo has always been a special make for me. These were the cars I learned my skills on in my youth, and I also worked for a while at Volvo's concept-car department. So instead of obtaining inspiration from an old Ford, as is usually the case in Hot Rod circles, I wanted to build something that meant more to me personally. That's why I chose to bring together the most classic attributes of Volvo, the Jakob, and my own modern Hot Rod style," explains Leif Tufvesson.
Parked side by side, the similarities between old and new are remarkable. The curvature of the bonnet has exactly the same radius. The characteristic windscreen attachment pillar that runs down the body side follows the original in detail as regards dimensions, materials and the number of screws used. Equally identical is the radiator grille with its characteristic mesh pattern and diagonal bar that incorporates the classic iron symbol. The body has been built by hand from raw aluminium panels that were bent into their final shape using a hammer and English wheel. Exactly as it was done in the prototype workshop back in the 1920s.
That said, however, the differences are naturally also obvious. Hot Rod Jakob is far smaller than the original. It is a two-seater instead of offering space for four. And it has those typical Hot Rod attributes: large wheels, no wings and a muscular rear axle. And if you get a bit closer it is possible to see differences in terms of materials and details. The chassis is built of lightweight carbon fibre, just like today's most advanced racing cars, not from heavy steel beams as in bygone times. The brake discs are remarkably slim, but their huge diameter (450 mm front, 515 mm rear) guarantee that the braking surface is still going to be more than sufficient. The wheel spokes are made of aluminium instead of wood, but they are exactly the same in number.
Power for the 2008 Hot Rod Jakob comes from a Volvo T5 engine. This unit develops 265 horsepower and 370 Nm or torque.
S60 2.0T MY11, Summum, Vibrant Copper
---
---
2 δημοσιεύσεις • Σελίδα 1 από 1
Επιστροφή σε "Πρωτότυπα Volvo"
Μέλη σε σύνδεση
Μέλη σε αυτήν τη Δ. Συζήτηση: Δεν υπάρχουν εγγεγραμμένα μέλη και 3 επισκέπτες